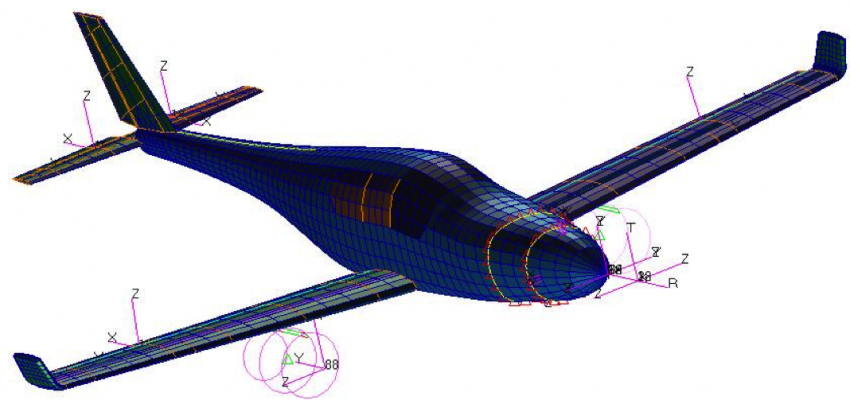 We are pleased to announce that MSC Nastran 2018 will be available in November 2017. Designed to increase efficiency and user productivity, this major release introduces new material properties, large assembly modeling techniques, enhanced contact analysis as well as more efficient solver methods. Some key highlights include:
Frequency and Spatial Dependent Properties

Advanced composite materials such as laminated metals or SFRP laminates (short fiber reinforce plastics) have commonly been used for noise reduction studies among both auto and aero industries. These materials require development of structural damping coefficients that vary over a certain frequency range. Using MSC Nastran 2018, engineers can now implement frequency dependent material properties for their dynamic simulations.
Modern materials such as carbon fibers can be molded into complex structural shapes. Implementing these laminated materials in simulations often requires users to change the thickness or orientation of certain plies. Users can now take advantage of spatially varying properties for composite plies and/or other properties.

Ease of Use in Assembly Modeling

Managing complex multi-level assemblies can be time consuming and challenging for many applications. The newly introduced "Modules" in MSC Nastran is a convenient method to combine complex assemblies into a full assembly without the need to use superelements or additional modeling techniques.
The Multiple Mass Configuration feature in MSC Nastran is a convenient method to account for multiple mass cases that correspond to structural mass, payloads, fuel and other environmental conditions in design of aerospace or other vehicles.

Enhanced Contact Analysis

For complex models that consist of various parts and components, contact establishment can be very time consuming. The new Automatic Contact Generation feature allows users to efficiently create contact bodies and define the contact relationship between these automatically-defined contact bodies.

Improved Solver Methods

High Performance Computing methods are enhanced to deliver a faster turnaround for large simulation models. For example, the new MPYAD method in MSC Nastran 2018 can result in 2x gain in solver performance for many models.

New Dytran-Based Explicit Solution

SOL 700 can now execute the new Dytran-based Lagrangian solver, which allows users to take advantage of new materials and other enhancements.
Other enhancements include grid point force balance output, topology and topometry optimization enhancements, rotordynamics enhancements, and external superelements in SOL 400.