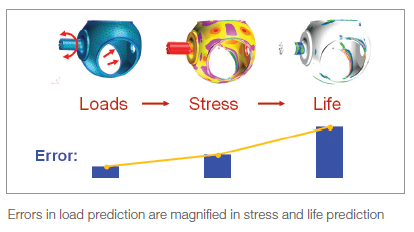 At present, most companies use simple hand calculations or results from previous designs to predict loads. Neither of these methods is very accurate. Even small errors in calculating loads create large errors in stress results and very large errors in fatigue life predictions. Accurate loads can be determined by building and testing physical prototypes, but it's very expensive to make changes at this late stage in the design process. MBD offers the ability to accurately predict loads long before prototypes are available, making it possible to generate accurate fatigue life predictions. The accuracy of loading information can be enhanced by incorporating flexibility information obtained from FEA codes. The ability to accurately determine loads early makes it possible to evaluate many design alternatives with respect to loading in order to deliver products that offer higher levels of performance and last longer.
Adams is the most widely used MBD software, having developed unparalleled depth and breadth of functionality, with customizations for many specific industry applications. The Adams user community spans many industries and is an excellent source of application experience and a driving force for the continuing improvements. MSC Software is the world leader in both MBD and FEA software and, in fact, is one of the few companies to even offer both solutions. MBD and FEA software complement each other beautifully and both need to be used together to simulate most mechanical designs. Integrating these two very different types of codes requires subject matter expertise in both areas and MSC is the only company possessing such expertise. Speaking the language of both domains gives MSC the capability to develop the rich data transfer required to fully integrate them.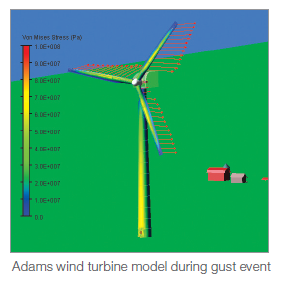 It is used by a major manufacturer of wind turbines to improve stress and fatigue life predictions. Wind turbine sizes have increased rapidly in recent years and this has been identified as the root cause for a number of field reliability issues in mechanical components. Engineers create an Adams model of the tower, rotor blades and gearbox and drive it with various wind scenarios presented by the toolkit's seamless incorporation of National Renewable Energy Labs industry standard aerodynamics code Aerodyn. Flexible body representation of key components prevents overestimation of component loading. The model's responses to this excitation include the dynamic loads that propagate throughout all of the various subsystems and components. The resulting accurate load predictions are used as input to downstream calculations of component stresses and fatigue life.