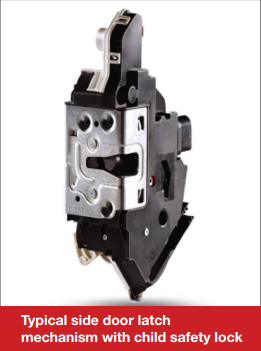 Car doors are immensely complex systems that serve an immensely important function – safety. The child latch is an additional safety measure, one of many functions a side door latch performs. The child safety lock temporarily disables the operation of the inside door handle. When it is engaged, the rear doors can only be opened from the outside. On newer models, this safety lock is activated or deactivated electronically utilizing a small motor within the side door latch by a switch, typically located near the driver's side door lock switch.
Since implementing Adams 15 years ago, Kiekert continues to use its multibody simulation software because of its ability to simplify the process of building functional virtual prototypes of complex mechanisms early in the design cycle. For this particular project, they used the Adams flex body capability to simulate the child safety lock mechanism within a side car door latch. The objective of this new design was to replace the springs. The springs had been used exclusively up to that point to return the actuator to the unlocked position, with plastic levers that provide just the right amount of elasticity to unlock the mechanism. This reduces raw material and manufacturing costs by reducing the number of components in the mechanism.
Darius Schendzielorz, Mechanical Engineer Simulation for Kiekert, started by importing the CATIA V5 geometrical definition of the initial design concept into Adams. He defined the gears, bearings and electrical motor in the child lock simply by entering parameters that define their characteristics. For example, he defined the gears in the mechanism by selecting the gear type, location, gear ratio, materials, connections, and other parameters. It was critical to accurately model the behavior of the plastic levers. With the new Adams option to create flexible bodies from solids within Adams View, Darius Schendzielorz created modal neutral files (MNF) for the levers. The modal neutral files contain information such as the inertia matrix, the mode shapes and modal frequencies.
To make sure the now flexible levers are sufficiently accurate, their behavior was validated by an FEA performed by Dirk Eichel.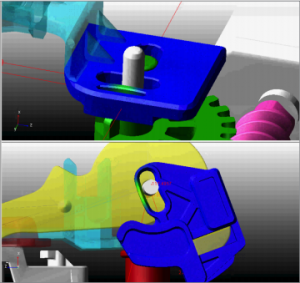 Stelian Borlodan, Project Engineer Simulation and FEA, then simulated the performance of the child safety lock mechanism under the complete range of design conditions. For example, he evaluated its performance at different temperatures, exposed it to loading that would be seen in a hypothetical crash, and evaluated the impact of manufacturing variation on mechanism performance. The simulation was used to size the electric motor used to drive the child safety lock mechanism. Darius Schendzielorz then generated an animation which helped diagnose issues with the mechanism and helped engineers iterate to a design that met all requirements. Only at this point did the company build a prototype whose performance correlated well with the simulation results.
Using multibody dynamics simulation, Kiekert engineers dramatically reduced the time required to design the child safety lock mechanism to 3 weeks from the estimated 6 to 18 months it would have taken without simulation.