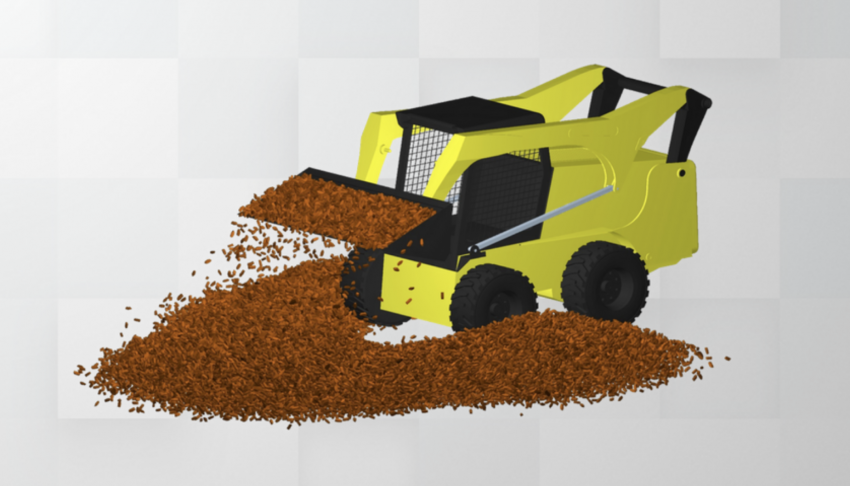 Coupling Multibody Dynamics software allows manufacturers of heavy equipment to gain better insight into machine-material interaction. EDEM Simulation's EDEM for Adams is a tool that enables realistic material loads directly in Adams system dynamics analysis. 
Adams is a key tool used in the design of heavy equipment such as excavators, grab buckets, tractors and ploughs. The operational performance of such equipment – from stresses on load arms, to the hydraulic forces, to the traction of the tyres and delivery of power – is dependent on the bulk materials being handled. Getting an accurate representation of the material loads during design process is critical to secure confidence in the structural durability and equipment designs.
Rocks, soils, sand and ores are complex and highly variable in their behavior and predicting the loads they produce on equipment is challenging using traditional techniques and load spreading assumption methods. Combining EDEM with Adams allows engineers to introduce realistic bulk material behaviors to their multibody dynamics simulations, and offers engineers unrivaled insight into how material loads are transferred throughout a mechanical system.
During a co-simulation with Adams, EDEM calculates the bulk material forces and torques acting on equipment during machine operation. These equipment loads are then passed to Adams where equipment motion and response to the bulk material is simulated. Adams then returns the new velocity and position of the equipment to EDEM and the co-simulation process continues to the next synchronization point. The tools available in EDEM and Adams allow engineers to simulate different systems and working conditions of those systems. This enables engineers to test the performance of their equipment and make informed decisions about design changes based on numerical data prior to prototype manufacture.
Join an upcoming webinar on Thursday, November, 1st:
Webinar Contents
Challenges of Heavy Equipment Design
Traditional approaches for calculating material loads
Getting realistic loads with bulk material simulation
Benefits of using EDEM technology with Adams
Application examples: excavator, dozer and dragline bucket
Introducing EDEM for Adams: Overview & Workflow
Case studies: skid steer loader & grab bucket by guest speaker
Q&A with our engineer
Want to increase design accuracy and reduce assumptions & cost of physical prototyping? Register below!