Bolted or riveted airframe assemblies are typically modeled as continuous meshes. But advances in meshing and solver technology are changing the way we model these assembly structures. Today, continuous meshes are often replaced by individually meshed parts joined together by some type of connector or interaction definition.
These individually meshed parts are typically joined together using either discrete fasteners (CFAST, CBUSH, or custom techniques such as Rutman Fastener) or glued contact (aka tied contact).
The first method, which uses discrete fasteners, provides more accuracy at the expense of modeling time. The discrete fasteners can be combined with touching contact to further improve accuracy. Touching contact prevents parts from penetrating each other, thus providing more accurate load paths, better stiffness representation, and better load distribution results. In this method, modeling effort is required to generate and apply the fastener properties. And touching contact simulation will add additional solution time in order to achieve convergence.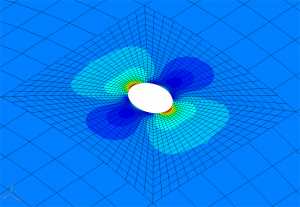 The second method, which uses glued contact simulation, can be defined and applied rapidly without specific fastener connection property data. This is important for defining contact in a large vehicle-level assembly with hundreds of fastened connections. However, glued contact represents a rigid connection which could potentially affect load distribution accuracy. One example of this is the overestimation of end loads and peaking at runout details and part edges.
Adding contact simulation to aerospace assembly models ensures that load distribution in bolted/riveted aerospace assembly models can be more accurately predicted. Assembly modeling using fasteners alone may allow parts to penetrate each other under loading. Adding touching contact will prevent the parts from penetrating each other, thus providing more accurate load paths inside the assembly. Glued contact allows parts to be joined together rapidly in an assembly where parts are meshed independently with different mesh sizes.
Click here to view an on-demand webinar that further explains MSC's touching contact simulation capabilities: http://bit.ly/1QSYyL8
Click here to view an on-demand webinar that further explains MSC's glued contact capabilities: http://bit.ly/1RjqJVQ