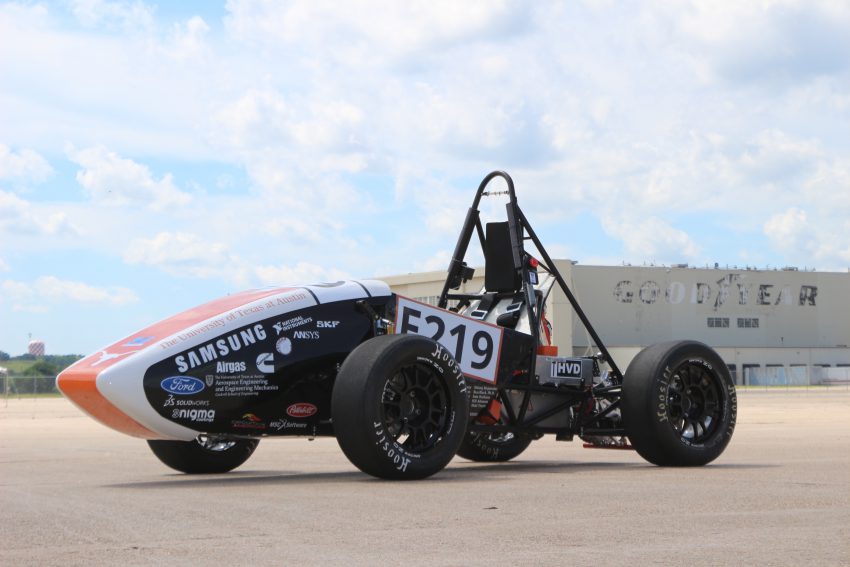 See how students at The University of Texas, Austin used MSC Solutions in the building of an electric vehicle for the Formula SAE Electric competition.
During the 2017-2018 season, Longhorn Racing laid the foundation upon which we aim to build a champion electric team. Starting with a small group of 12 members, we put a heavy focus on recruiting and teaching, and nearly quadrupled our membership into the 45-person team we maintain today. Everyone took to the books, and we built a knowledge base and a library of knowledge that we can use for years to come. For each system on the car, we started from scratch, looking to the fundamentals of design and mechanics as the driving forces behind our decisions.
As the heart of our electric car, the battery was our central focus and received a complete redesign. Through tireless research and testing, we designed a battery which was clean, easy to assemble, and sized to fit perfectly into its custom-built chassis. Another one of our big focuses this year was on manufacturing capability, which saw an astronomical increase as we welcomed our newest class of student engineers. Nearly every Sunday, we packed the student machine shop to capacity: with 6 manual mills, 5 lathes, 2 CNC mills, a waterjet and a TIG welder all manned in parallel to generate high quality, reliable parts. This year, Longhorn Racing built not only an electric car, but also an amazing team that we're proud to call a family. We made the jump from a team blindly trying to find its footing, to a team poised to be a competitive force for years to come. We present to you, our "Leap of Faith".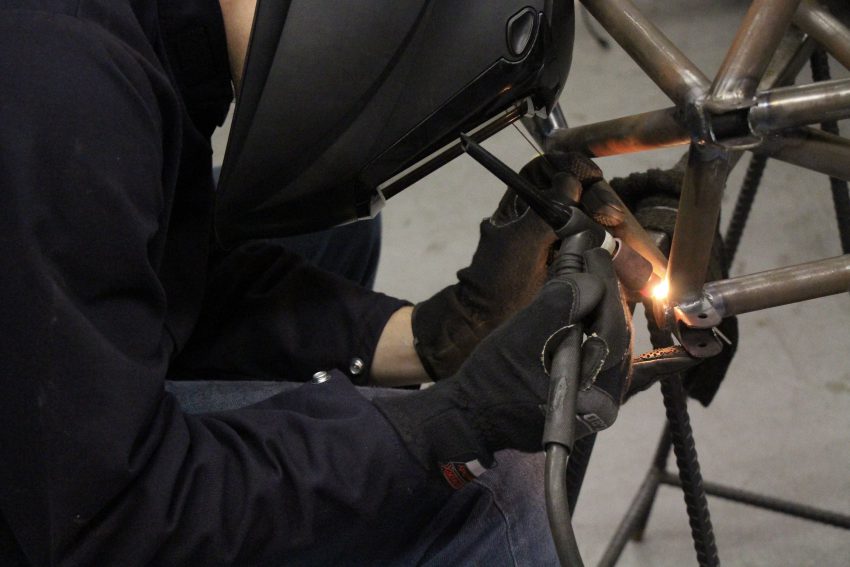 Leap of Faith's design began from scratch, with a focus on battery and driver. The battery received a total makeover: we switched from pouch cells to Samsung's 18650 cylindrical cells and changed the enclosure from a large aluminum box to a sleek, low-profile stainless-steel case. We consolidated most of the control units into two modular boxes, one each for our high-voltage and low-voltage systems. This modularity significantly decreased exposed wiring and made for easy-access maintenance and debugging. The chassis design centered around accommodating this new battery and creating a roomier cockpit. We widened the front of the frame to incorporate a standard impact attenuator and to make for a more comfortable ride during the lengthy endurance race. The powertrain package includes a dedicated battery bay for easy installation and removal, and drivetrain mounting that extends beyond the edge of the frame to reduce weight and satisfy our wheelbase requirements. Our car is driven with a single Emrax 228, a highly power-dense motor with a proven track record in electric vehicles. The entire car is controlled with a suite of custom PCBs, each connected by an industry-standard CAN bus and custom telemetry software.
"I would like to thank MSC for their support in this previous build. The software supplied greatly accelerates our suspension design, as well as improving the quality of the model. With this, we can iterate suspension design to work better with our frame and packaging, which has proved difficult in the past. We are extremely grateful, and look forward to a continued partnership with MSC." -Patrick McCabe, Team Captain
At Formula SAE Electric competition this year, the team was anxious for its first real run at technical inspection, design judging, and the prospect to compete in dynamic events. During the first stage, accumulator (battery) inspection, we wowed many inspectors and onlookers with our clean design and clever layout. We passed mech relatively quickly, thanks to a preliminary inspection back in Austin and a few lightning-fast modifications to our harness and cooling system. We were in and out in under two hours, and all our drivers were qualified through an emergency vehicle egress test.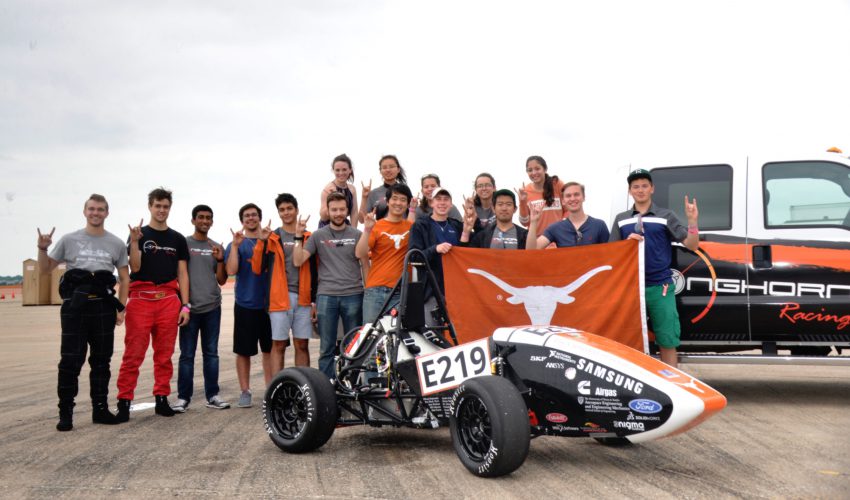 After this was tilt test, where the team rode an emotional roller coaster – while our driver and car rode the actual roller coaster – as they were raised on a table to an inclination of 60 degrees. Despite the heart wrenching suspense, we kept our wheels on the ground and fluids inside their vessels, and we were awarded with another pass. Armed with everything we have learned this season and the feedback we received at competition, we are ready to redesign, rebuild, and come back in 2019 as a force to be reckoned with. Thank you for your support, we couldn't have done it without you.