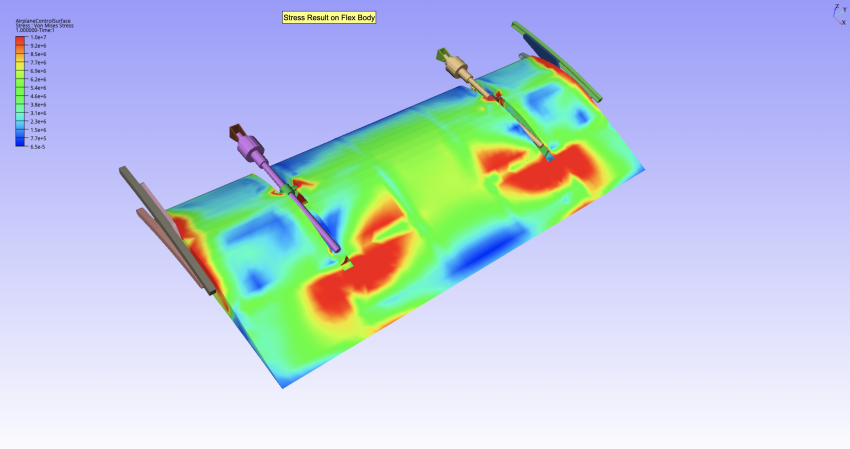 The Digital CAE reporting software, VCollab, is now available through the MSCOne token-based access system, enabling MSC Software customers to produce interactive model visualisations and build reports using data from CAE tools such as MSC Nastran, Marc, Adams and SimManager that share valuable product development insights with business and technical stakeholders to aid review meetings and improve productivity.
VCollab helps organisations maximize the return on their simulation investments by automating the creation of "Digital CAE Reports" from native simulation results. These can be easily shared with stakeholders to streamline design decision making processes and keep up with the cadence and accessibility of information sharing that's increasingly required in product development. These capabilities are now available through MSCOneXT (MSCOne Extended Edition), which enhances MSC's comprehensive CAE portfolio with access to tools from industry-leading technology partners.
These Digital CAE Reports are designed to provide high-fidelity, actionable simulation insights in an interactive html-based format that can be accessed and explored by anyone with a web browser. This portability was driven by the needs of CAE analysts within major OEMS that needed a way to provide actionable insights efficiently to stakeholders – be that discrete engineering teams that do not necessarily have access to the same CAE tools or designers and product management. Reports that are typically created manually as slides and can take hours to compile.
The ability to automatically create the browser-viewable post processing required from CAE tools has been shown to reduce the preparation time for a meeting or call from hours to minutes, producing interactive visualisations that allow walk-throughs to aid discussion. Where the analyses have been conducted using independent tools, VCollab can also serve as the post-processor to present multiple physics in one report.
John Janevic, COO, MSC Software commented: "Some of our largest customers have used VCollab tools for many years and we have also employed it internally to great effect. We are pleased to welcome VCollab to MSCOne so that our customers can access this complementary technology to improve their processes and collaboration. As development timescales are compressed and efficient cross-functional engineering and supply chain collaboration becomes critical, VCollab is one of the tools that can be deployed quickly and easily to improve processes and maximise the return on CAE investments."
Prasad Mandava, CEO, VCollab commented: "VCollab is excited to be a partner in delivering industry-leading simulation solutions from MSC. By combining the power of MSC Nastran, Marc, Adams and SimManager with VCollab's unique 3D Digital CAE Report, we are helping companies to streamline the way they process and share simulation results with product design stakeholders. Compared to traditional 2D CAE reports, this allows CAE report consumers to quickly and clearly understand product performance for faster, better informed design decisions. Democratising this information can help transform the process of simulation to bring better, more innovative products to market."
MSC Nastran and Marc have existing integrations with VCollab, providing easy access to powerful reporting. Adams multibody dynamics also integrates with the software to seamlessly export interactive 3D models of systems shown to great effect. Customers that employ Simulation Process Data Management (SPDM) using SimManager gain instant benefits from token-based access to VCollab, enabling them to exploit the rich data from SimManager to report on a project's progress across engineering disciplines.
VCollab's Digital CAE Reports provide a standard data format for visualizing, comparing, interrogating, and documenting CAE results across multiple 3D physics domains including the support of multi-disciplinary design, co-simulation visualization and optimization activities so that MSC customers can maximize the utilization of simulation models and results. The VCollab suite is available to MSC Software customers from today on token basis through the MSCOneXT programme.
MSCOneXT (MSCOne Extended Edition) enhances MSCOne with industry-leading technology partners. MSCOne users can try new products that extend and complement the capabilities of their MSC tools using tokens, taking their simulation one step further with access to software that enhances their workflows, but without the complexity, risk, or cost of managing agreements with multiple CAE suppliers.
Learn more