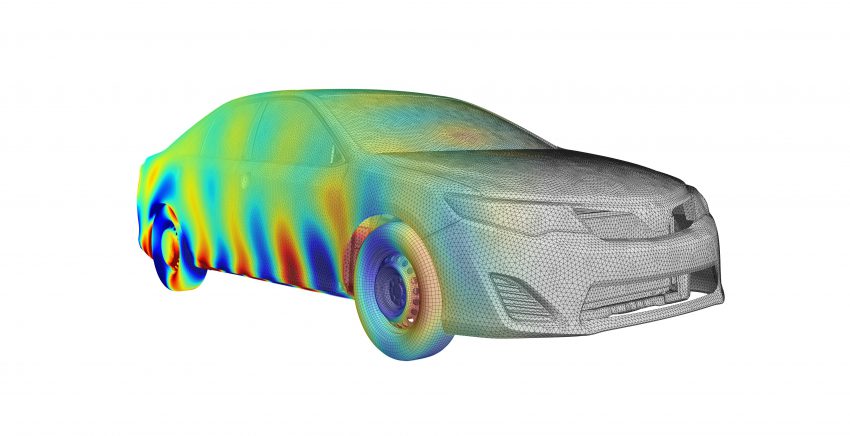 NVH (Noise, Vibration, and Harshness) or N&V (Noise and Vibration), is a problem that is often directly tied to the overall quality of a product. Therefore, it is one of the most sought after targets for performance by product development teams to help differentiate themselves from competition.
With the emergence of hybrid and electric vehicles, the automotive industry is facing new NVH challenges. The previously hidden noise sources are now becoming dominant with potential negative effects on customers. These new types of noise sources also need to be studied, in particular, electric motor noise needs to be carefully analyzed to ensure the superior quality and comfort that customers expect from electric vehicles. The goal is to improve vehicle NVH performance while complying with the CO2 reduction regulations.
MSC Software offers an efficient and cost effective solution allowing engineers to predict the vibro-acoustic behavior of the electric motor and the gear reduction mechanism. The physics behind noise emitted by electric motor noise and appendixes can be predicted as well as the mitigation strategies to improve the sound quality. With leading FEA and MBD (multi body dynamics) capabilities, users can simulate and predict how a component or system will vibrate under varying operating conditions; for example how a driver or passenger of a car driving down the road can perceive the engine sound at cruising speed or under acceleration and at the same time perceive the feel and the noise generated as the car runs over a pot hole.
Join our upcoming webinar and get an overview on how MSC's vibro-acoustic modeling capabilities can help engineer shorten the product development cycle. The coupling of Multibody Dynamics, FEA, Acoustics and third-party electro-magnetic software will be discussed and the webinar will include a short live demo.
Join this webinar to learn more on
How to understand, analyze and identify electric motor noise sources
The methodologies and techniques for predicting gearbox noise
Workflow for mitigating electric motor noise issues
Following the webinar, you will be able to join in a live Q&A to have your specific questions answered.