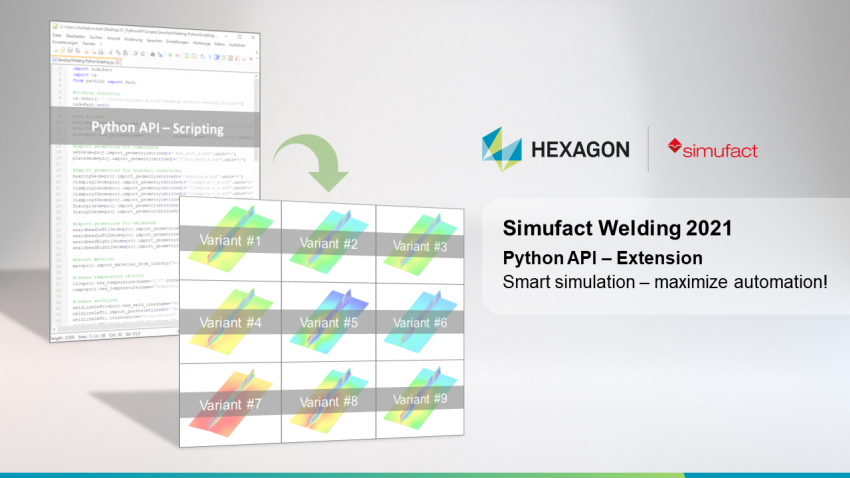 Simufact Welding is used to model and optimize a wide range of thermal joining processes by means of the welding structure simulation under consideration of weld sequences and clamping. Processes such as arc welding, laser beam welding, electron beam welding, brazing, resistance spot welding as well as the generative manufacturing process 'Direct Energy Deposition' (DED or WAAM) can be modelled in Simufact Welding.
The following five top highlights are available within the new release of Simufact Welding 2021.
Extension of Python API enables for smart simulation and maximized automation
Simufact Welding 2021 allows the user to automate model creation, such as the import and the positioning of his parts, the creation and the assignment of his objects that are necessary for his process, and his process definition. In addition, Simufact Welding 2021 automatically does the post-processing, such as the creation of measuring points wherever needed, and exporting as well as copying results to create subsequent processes. Once the results have been exported from Simufact Welding 2021, the user analyses without any limits by the use of the Python programming language.
Simufact Welding 2021 moves an important step forward towards automation. Our development team is about to improve and expand this even further in the future to simplify your daily work.
New weld bead creation tool serves for a complete control over any shape of weld beads
For now you could not model certain welds without an additional software, such as butt welds? Simufact Welding 2021 has integrated a new weld bead creation tool, that serves for a complete control over any shape of your weld beads. Whether you need to simulate square butt welds, V-butt welds or T-joints with a gap: the new weld bead creation helps you to easily, quickly and intuitively create them within one welding simulation software.
Enhancement of DED module
This year, we have improved our direct energy deposition (DED) module in Simufact Welding 2021. Thanks to this huge improvement our user easily creates a geometry based on the trajectories after the G-Code import. Afterwards he generates the mesh for his simulation. This entire process can run in Simufact Welding 2021. Further enhancements are for improved stability, robustness, and ease of use in both model generation and simulation of DED processes.
New cost estimation module serves for entire manufacturing costs at a glance
In addition to the welding simulation, Simufact has enhanced its range of applications by including a basic cost estimation module as technical preview. Our user now estimates his costs of each variant in advance and is able to optimize them optimize prior the real manufacturing.
The new cost estimation module offers the possibility to estimate itemized and total costs of each variant. This allows the user to evaluate the comparison of different welding processes in terms of costs. The entire range of costs is covered: fixed costs, such as maintenance and labour costs, variable costs, such as material and tooling costs, as well as energy costs.
Enhancement of heat source definition – based on measurements
To define the heat source is essential for a welding simulation. For this reason, within Simufact Welding 2021 we have simplified the heat source definition and our user can just focus on his process setup.
Look forward to two major updates of the heat source definition:
The Goldak's heat source geometry and the power can be estimated by using the geometric parameters of a weld bead dimensions from a weld plan or a cross-section from experiment.
In addition to the conventional heat source definition by specifying the speed, power and efficiency, our user now easily specifies the target temperature, the temperature tolerance, the maximum current and the maximum voltage.
Use our new, quick and easy heat source definition tool to estimate the heat source dimensions and properties without spending much time and efforts for calibrating it in order to run a first-shot welding simulation.
"We are proud to offer the market Simufact Welding 2021, our solution for modelling and optimizing a wide range of thermal joining processes, taking into account weld sequence and clamping. Our goal with each release is to increase the stability, efficiency and usability of the software. Our customers shall benefit from the new possibilities to simplify their daily production", says Dr. Gabriel Mc Bain, Senior Director Product Management at Simufact Engineering GmbH & Forming Technologies. "With the release of Simufact Welding 2021, we have taken a huge step towards automation and extended the scope of Simufact Welding by the new cost estimation tool to support our users to design cost-effective processes. Look forward to our new release and the many new features that will make your everyday work easier!"