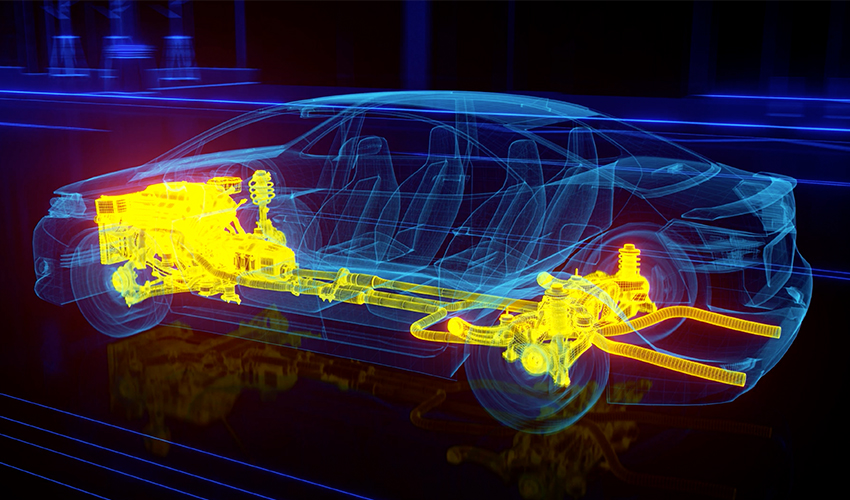 We are excited to announce the new release of MSC Nastran 2018.2, focused to deliver a better simulation workflow within the automotive and aerospace industries.
FEA Simulations play a major role in design and development of complex automotive structures. They are cheaper, faster, and provide safer designs. While performing a Finite Element (FE) analysis is an important step of the design process, direct integration of Multi Body Dynamics (MBD) simulations enables engineers to cover a wider range of design possibilities and deliver higher quality products. As a multipurpose FEA solver, MSC Nastran 2018.2 offers a streamlined interface with AVL Excite, a software for MBD simulation of rigid and flexible powertrains. The single step procedure eliminates the need for creation and translation of intermediate files, resulting in up to 3x performance gain for your powertrain simulations.
Designed to further improve user productivity, this release delivers valuable contact analysis enhancements. From the model assembly perspective, dealing with detailed contact models and integrating various components is a common challenge among FEA engineers. Several scenarios (unintentional gaps/overlaps) require performing early design assessments and making design changes.
The new contact model verification features of MSC Nastran 2018.2, enable engineers to review and visualize these geometry changes in early stages which helps increases accuracy, and productivity. Additionally, MSC Nastran 2018.2 improves efficiency by enabling machine learning based HPC methods that automatically choose the optimal solver based on model specifications and available memory.
New features of MSC Nastran 2018.2 also include:
Streamlined MSC Nastran/AVL Excite Workflow – Direct export of AVL Excite EXB input files from SOL 103 models
New Contact Model Check – Allows Users To pre-check and Verify The Contact Status In The Initial Stage
Dynamic Analysis Enhancements – Automatic Conversion of Structural Damping in to Viscous Damping  in SOL 112
Improvements for Rotordynamics – Rotor Mass Summaries for 2D/3D rotors are now included in weight/mass conversions
Bar/Beam End Load Post Processing – Bar/Beam end loads and panel shear flow outputs are now available
HPC Enhancements –  Enhanced Automatic Solver Selection allows Pardiso to be used with adequate memory