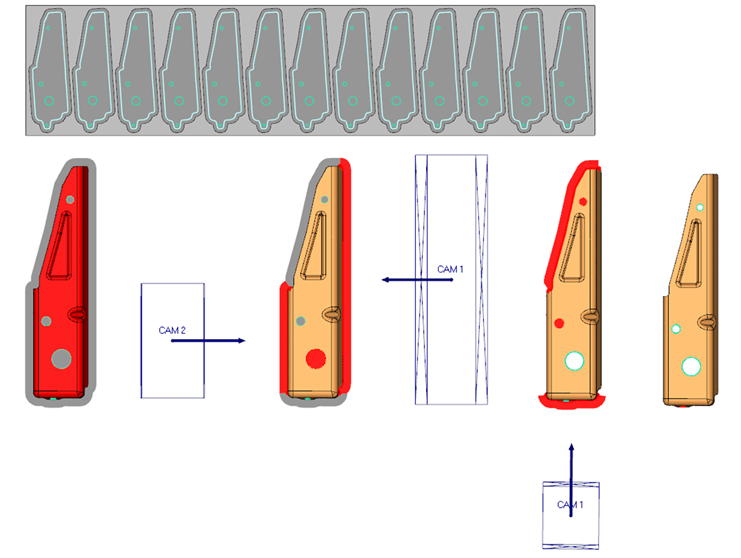 FTI FormingSuite® is the premier cost engineering and early feasibility software for sheet metal components. It empowers engineers to design quality products the first time, optimising material and tooling costs. It provides users with a fast and accurate method for creating and documenting process plans, verifying formability, developing blank shapes and coil nests, and identifying product and process design changes that lead to substantial cost reductions.
The following top highlights are available in the new release of FTI FormingSuite® 2021.1.
Low volume workflow
With the latest version of FTI FormingSuite®, a specialised workflow for process planning of low volume components has been added. Users can now start the Line Die Plan (LDP) workbench from the StripNest workbench. This allows users to define and estimate low-volume workflows.  The complete process plan including blanking, die lineup, and cost estimation are available.
Dytran solver
A technology preview of an in-house explicit solver, Dytran, is introduced into FAST Incremental. The pre-and post-processing workflow remains the same. This version of Dytran features:
Single- and multi-pass forming operations
Serial run and DMP solving (local and remote)
Gravity and binder closing
Springback prediction
Drawbead usage
Consideration of anisotropic material behavior
Constrained pilot holes, edges, and symmetry
Improvements to double attached geometry creation
This version of FTI FormingSuite® features an improved workflow for generating mirror double attached geometries as well as for generating double attached components with unique geometries. A simplified, improved, and intuitive workflow and function to double attach mirrored parts has been implemented, which includes a preview option for bridging, options to minimise depth, show minimum distance, and show the bounding box.
XML based settings
With the latest version, users are now able to import, export, restore and convert all software settings.  These settings include the Die Material Database, Regional Die Estimation settings for both Transfer and Progressive Dies, but do not include the Material Database.
Part feature – define/edit
This version introduces significant usability improvements to part feature definition. Users can now easily identify and correct disconnected surfaces in feature definition and editing. Any disconnected surfaces are highlighted during feature definition/editing with the option of the automatic merging of disconnected surfaces.