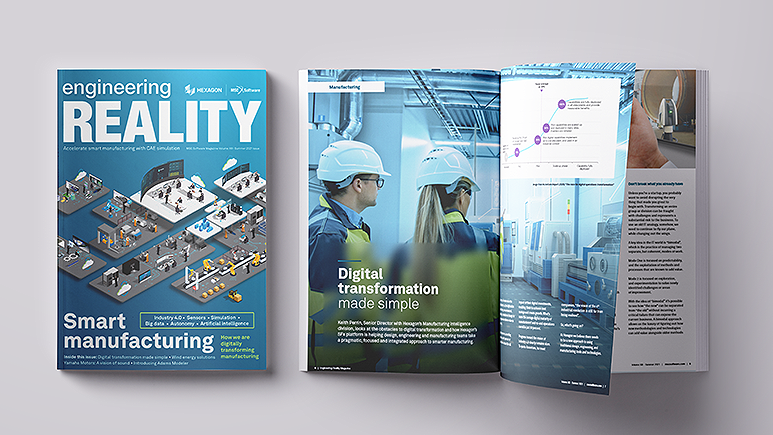 Smarter manufacturing by design
Welcome to this our Summer 2021 edition of Engineering Reality magazine where we are addressing everything associated with 'smart manufacturing'. This is a sweet-spot area for Hexagon's Manufacturing Intelligence division with our unique portfolio of metrology hardware, production software and computer aided engineering (CAE) simulation. The concept of smart manufacturing encompasses the goals of Industry 4.0 and it employs sensors, simulations, big data, autonomy and artificial intelligence (AI) to achieve it.
Hexagon's world-leading optical and CT-scanning technologies as well as our market leading computer-aided manufacturing (production) software can be coupled to CAE simulation predictions to deliver 'digital twins' for any manufactured product. Our unique combination of virtual and real data creation can permit smart manufacturing to speed up product development, ensure high accuracy designs, and improve the quality and productivity of end products as manufactured, as deployed and throughout their lifetime all the way through to recycling. Do read the article from my colleague, Keith Perrin, who outlines Hexagon's efforts in helping design, engineering, production and manufacturing teams take a pragmatic, focused and integrated approach to smarter manufacturing via digital transformation (see page 6).
When I took over the leadership of MSC Software last year, I instigated a reorganisation of our acquired companies and existing stalwart CAE product lines to create our new Centers of Excellence (CoE) for the multi-physics focal areas and solutions that we serve today. Two of the heads of those new CoEs, Mahesh Kailasam and Chris Baker, outline their visions and priorities for the respective Structures and System Dynamics CoEs on pages 49 and 88 of this magazine. Mahesh reminds us that both MSC Nastran and Marc are 50 years old which is a tremendous milestone. I encourage you to read their articles and reach out to them and their teams as they drive our specific CoE strategies into the 21st century and address the megatrend needs of the many industries we serve. Our other CoEs include CFD, Acoustics, Virtual Manufacturing & Costing, Materials and an Applied Solutions team.
This edition of our magazine also includes several exciting multi-physics customer articles including one on unmanned helicopters from Yamaha (page 15), together with the solutions we offer for both hypersonic rockets (page 54) and the design of modern valves (page 70). Our new Aerospace & Defense Industry Director, Bobby Cook, along with Aziz Tahiri from Hexagon provide us with an excellent overview of Hexagon's breadth of software & hardware solutions to address the aerospace industry's many new sustainability challenges after the COVID-19 pandemic (page 36). In addition, we have some fascinating stories related to Smart Buildings from ecoKaku in Japan that I would encourage you to read (page 20). And yet again as we see sustainability shooting up the political agenda around the world, the head of our Applied Solutions team, Xiaobing Hu, gives us a great overview of the trends in Wind Turbine usage and outlines Hexagon's unique suite of renewable wind energy solutions. These were boosted by our acquisition of Romax last year with their 20 years of applied solutions in this essential sector for zero carbon energy generation (page 26). A story from ZF in Europe (page 32) just reinforces our strengths in this area. There are many other customer stories in this magazine related to smart manufacturing spanning the use of our complete product portfolio and representing all regions of the world from companies like Docan, Haver & Boecker, Valeo, Omtec, Villacortese, KATECH, Marelli, Idiada and MTS. I hope you enjoy them as much as I did.
Let me encourage you to read about our next generation Adams Modeler release (page 59) which we are excited about and I do want to formally welcome CADLM into our suite of products after their acquisition by Hexagon in April. Their world class AI/Machine Learning ODYSSEE product is already transforming the CAE simulation landscape worldwide. Do check it out on our website and get a trial. Finally, I do want to urge all of you to register for our first ever HxGN Live Design & Engineering Conference in October. We will be hosting this each year as a global must-attend event for all of our CoE solutions and including Hexagon's allied offerings. This year it will be fully virtual due to pandemic limitations, but I can promise you it will be interactive, inspirational and full of opportunities for you to connect with your peers and thought leaders in your field from around the world in an immersive platform.
Salut for many years of smart manufacturing ahead of us!