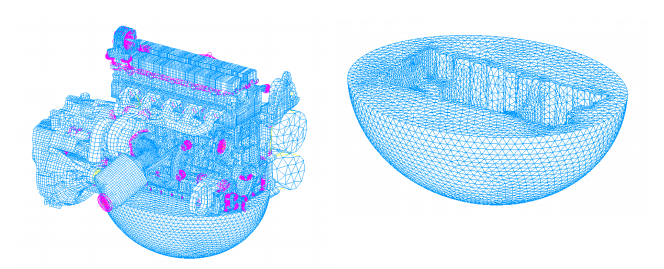 One of the most significant pressures on car manufacturers today is sound quality. There are many factors that engineers must consider when analyzing the sound emitted by a car. Aside from being a marketing tool, there are now government regulations on sound. New developing technologies including hands-free mobile and speech recognition require the clear voice of driver in order to perform. And exterior noise requirements are becoming tougher as well, for example, EU recently created new regulations to reduce pass-by noise in addition to other regulations. It is crucial for automotive manufacturers to optimize noise and improve sound quality. To do this, first, they should understand where this noise is coming from.
There are many contributors to noise such as intake, exhaust, powertrain, tires and engine. One of the most important components in sound quality is engine. Its fast-working crank mechanism with piston slaps and the powerful combustion happening inside creates the vibration and noise. This noise is being radiated to the passenger compartment, but how? The propagation also needs to be understood very well when approaching the noise problem.
There are two ways that engine noise can be radiated inside the cabin: airborne noise pathway and structure-borne pathway. Airborne noise is being created by a source and transmitted as sound waves that directly move in the air in the passenger cabin. It can be coming from the engine or other source and also can be from outside due to a lack of good sealing. Structure-born noise is created as vibrations in the engine are transmitted to the receiver by moving through the structural parts of the car and radiated to the passenger compartment.
Manufacturers have been trying to reduce noise and improve NVH for a long time. Even though they conducted physical testing to approach this problem, this was not affordable for any manufacturer because physical testing requires heavy investments, both in time and cost. With the developments in simulation testing and the beginning of the new era of computer-aided engineering, companies have experienced a revolution in testing product noise, vibration and harshness.
To learn more about MSC's acoustic simulation capabilities, click here: http://www.mscsoftware.com/application/acoustics