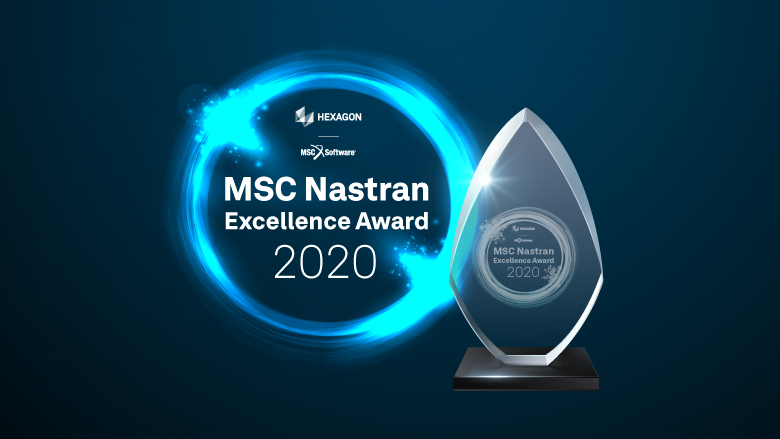 We are proud to announce Volvo Car Corporation Sweden as the winner of the first MSC Nastran Excellence Award, which recognizes the engineering and design innovation of its users around the world!
MSC Nastran is a widely used, trusted, and accurate Finite Element Analysis (FEA) structural simulation tool. It has been the industry standard since NASA's Apollo missions, and today is used in nearly every sector imaginable, with the submissions for the inaugural award reflecting its versatility. Some of the proposals celebrating its range included simulating the effect of earthquakes on nuclear reactors, and multi-scale analysis of woven composite materials. Each was reviewed by a seven-strong panel comprising technical and marketing representatives from MSC and an industry consultant.
Volvo was awarded first place for its creative use of MSC Nastran to simulate how the vibrations of a car structure can affect the performance of the audio system at different frequencies, and equip engineers with data on how to mitigate that effect.
Andrzej Pietrzyk, Senior Engineer, Volvo Car Corporation, said: "We find MSC Nastran invaluable in our daily work and are delighted to receive this award. We decided to focus on audio CAE because automotive OEMs are under increasing pressure to reduce time to market, and with MSC Nastran we saw a new opportunity to help us meet this demand.
"Most automotive OEMs rely on cooperation with specialized audio developers for their car audio systems, but the final responsibility for the installation remains with the OEM. By predicting how the system will behave prior to installation, the OEM can save valuable tuning time after the fact."
The two runners-up are the DLR German Aerospace Centre and ESTECH Corp. Japan. DLR used the MSC Nastran platform to estimate the loads that a typical aircraft has to withstand, which is then used optimize the design of its individual components. Technology consulting company ESTECH simulated how ssDNA-SWCNTs – DNA-wrapped single-walled carbon nanotubes used for delivering cancer drugs – move in water. ESTECH's aim was to help medical engineers design the best length and stiffness of the composite-based nanotubes to aid their performance as bio-nanodevices.