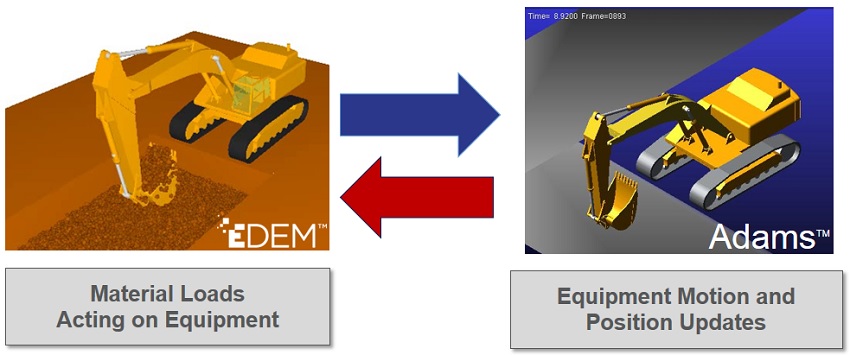 By David Curry, Principal Engineer, EDEM
The world of heavy equipment is full of big machinery digging and moving dirt. Millions of tons of bulk material are moved every day by excavators, bull dozers, ploughs and trucks. The challenge faced by engineers who are designing such equipment is to understand how their machines will perform in the material environment they operate in.
Real bulk materials – such as clays, soils, mined ores, gravel or rocks – are complex in their behaviors. They vary widely in size, shape and material properties (for example wet sand is a lot stickier and harder to handle than when it is dry) and this variability means it is very difficult for engineers to predict how they will behave with their equipment. But such prediction is key to a successful design.
Adams simulation is often used by engineers to investigate different design and system configurations of heavy equipment. Traditionally, when engineers perform such analysis they are limited to approximating material loads using hand-calculations and (at best) expensive test data from the field. Such limitations can lead to sub-optimal designs being produced.
To tackle this challenge MSC Software and EDEM have developed the Adams-EDEM coupling that combines the material modeling capabilities of EDEM with the power of Adams system dynamics analysis. During simulation, the coupling transfers EDEM material load forces directly into Adams where they are used to calculate the effect on equipment dynamics. The updated dynamics are then passed back to EDEM to provide realistic force-feedback.
By combining simulation capabilities together, engineers can easily introduce realistic loads in their analysis as standard and ensure that their equipment delivers maximum efficiency and performance.
Look out for our next blog where we will describe the Adams-EDEM coupling workflow in more detail.