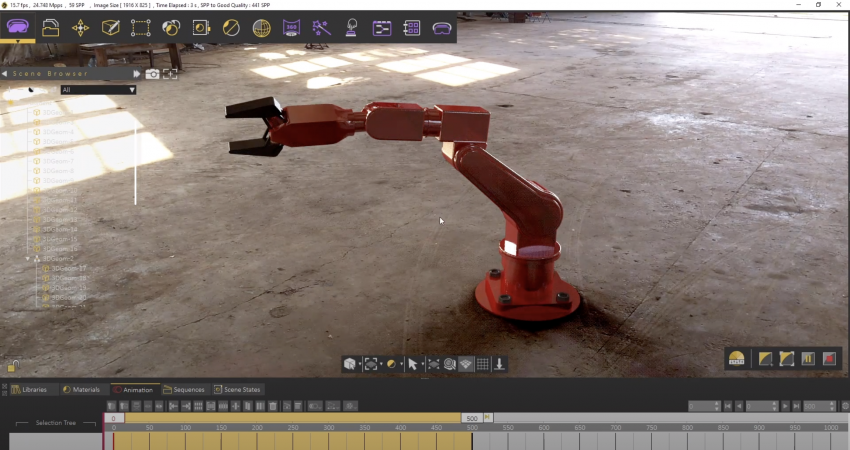 Simlab Soft Overview
Simlab Soft was founded in 2007 with a mission of developing fun to use, and easy to learn 3D visualization tools for engineers.  SimLab Composer the main application of SimLab Soft makes it easy to get engineering models, assign visual material, and utilize it in creating photorealistic rendered images/animations, 3D PDFs, and interactive VR experiences.
Product Downloads
Downloads are available from the Simlab Soft website
A three-week trial license is available
Please note that downloads are not offered on the MSC Software Download Center
Product Support
FAQ
Does the integration currently support rendering of flex bodies?
No, currently only rigid parts are supported.
Are there any current  issues with the rendering of rigid parts?
The geometry is currently exported in wavefront (.obj) format currently. Depending on the geometry there could be issues with the orientation of the surface normal on the geometry or the quality of the mesh in the .obj file. Though this does not affect the workflow that was demonstrated in the webinar on the 24th of September, it might impact the quality of the rendering in Simlab Composer.
Workarounds exist, the orientation of the normals can be corrected using 3rd party tools and Parasolids can be used instead of wavefront files to improve the definition of individual parts. These will be communicated in additional knowledge resources that will be released soon.
Can the integration be used for plotting signals?
The intent of the integration is to provide the user with the ability to render Adams results in a photorealistic environment. Generic post processing capabilities such as  plotting of transient responses is beyond the scope of the integration.
Who to contact?
Firas Lash, 3D Creative Engineer, Simlab Soft (Firas@simlab-soft.com)
Ian Hogg, Product Manager, Adams (Ian.Hogg@mscsoftware.com)
Hemanth Kolera, Product Marketing Manager, Adams (hemanth.kolera-gokula@mscsoftware.com)