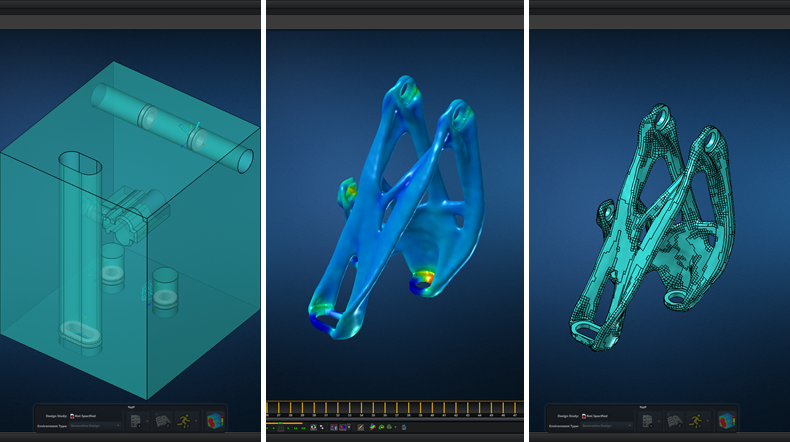 MSC Apex Generative Design is all about an efficient and fast optimization which is why the current release 2021 exhibits again several new features and improvements to guarantee this. They significantly reduce the time required to set up the model and prepare the created result for further analysis with MSC Nastran through a highly effective NURBS retransition. This enables the user to get from his original CAD file to an optimized part and can then transfer the result back to CAD again. It's now one integrated optimization process within one software with easy access to validation and manufacturing simulation. This is where a fluent and consolidated engineering process becomes reality!
In this blog article we want to give you a quick overview which new features and benefits got into the release!
Fluent Geometry Creation Process
The NURBS-Geometry Retransition is a major step within the engineering process to allow for the easy transfer to the validation software as well as the optimized result can be used in the common CAD/CAM process! It was introduced in the 2020 FP1 release for Generative Design results and has now been enhanced to also meet the demands of highly complex results. It enables to create one Fluent Geometry Creation Process which produces ready to print as well as nominal designs. Both algorithms are perfectly working and aligned together to guarantee high quality results. This alignment enables a fast and easy retransition of even complex shaped structures that are often the result of an optimization for lightweight designs. Furthermore, a significant time enhancement could be achieved up to 85% faster compared to the former version.
Design Space Tool
We have further worked on making the model preparation as easy and fast as possible. To utilize the design freedom of additive manufacturing, it is beneficial to consolidate several different parts of a product to one complex shape. To reduce this effort to just a few clicks, we have created a Design Space Tool with two different methods to choose or create a Design Space. An already existing Design Space can be directly selected with this tool. Furthermore, a Design Space can be created as a bounding box around several selected parts. No more manual modelling is required any longer – by directly selecting the parts the effort for this is reduced by more than half. This Design Space can afterwards be further modified to exclude other assembly parts or to give access to certain areas. This comes in handy when considering a part consolidation optimization for complex assemblies.
Symmetry Constraint
By nature, we are often looking for symmetry and prefer those designs. In addition to this aesthetic aspect, we want to have our optimization results as fast as possible. And why not save time for calculation by concentrating just on a fraction of the part? Less setup time, lower calculation time. Exactly this is now possible with our newly available symmetry constraint in the Design Space Tool. Define the symmetry planes of a part quick and simple to specify a master solid. All boundary conditions and constraints are applied to this master solid and automatically mirrored to the symmetric areas. A fast model setup for symmetric parts as well as a reduced calculation time can be achieved. This can speed up the whole process often by 4 times!
Machining Allowance
After the additive manufacturing took place, functional surfaces usually require some kind of post-processing. So hopefully the designer thought of this before the production started. Nevertheless, additional effort is necessary to add extra material to those areas. To make it as easy as possible and to have a print-ready file, we have introduced a Machining Allowance tool in MSC Apex Generative Design. It allows for the optimization to directly produce the geometry used for printing, the post processed manufacturing geometry and the geometry used for the NURBS-Geometry retransition – all in one step and with just a few clicks. Because it is so easy to add and really important for post-processing, we strongly advise to make use of the Machining Allowance for all functional surfaces.
Design Space Creation Workflow for Part Consolidation
As stated above, for the part consolidation we have already introduced a new way of defining the design space. To further modify this one and guarantee access for tools and parts for further assembly, we are introducing new geometry tools, Access & Clearance Region Tools, to modify a Design Space. The newly developed tools facilitate the steps needed and support the user in creating the optimization model fast and easy. Part consolidation in no time even for complex geometries – make the software work for you and not vice versa! That's what we are delivering.
The Access Region Tool is responsible for creating void spaces for accessibility reasons. The spaces could be needed for installing parts of the assembly or give access for maintenance reasons. Two methods are available to realize the required geometries.
The Clearance Region Tool is responsible for creating void spaces around parts, which are part of the assembly but not part of the optimization. These cannot be connected to the optimization results under any circumstances and therefore an additional space is given to prevent any unwanted connections. Another reason for creating a Clearance Region is the accessibility later in the assembly. This can also be realized in combination with the Access Region Tool. Just add an offset as allowance and you are good to go!
Scripting API
Are you tired of tedious, repetitive tasks in your engineering process? Just use our powerful features in MSC Apex Generative Design and get those things done without even thinking about it! Include our software's functions in a script and let your digital companion do the work for you. With the Scripting API it is possible to embed optimizations in your own processes and to utilize the power of scripting for all advanced automations. Now possible with MSC Apex Generative Design: Automation level 100.