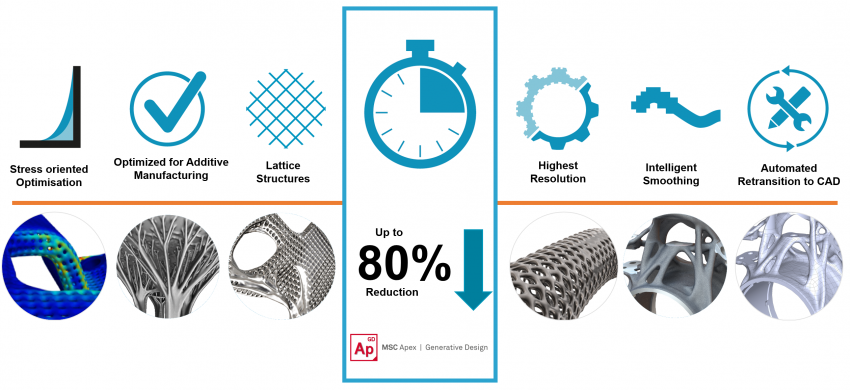 Product complexity is forever increasing, while time-to-market is continuously decreasing. This puts greater pressure on achieving complete designs ever faster. Generative Design can be a game changer at this point. Built for more efficiency in product development, it alters the way we operate, and supports designers to increase their performance.
For engineers, MSC Apex Generate Design is a disruptive technology that sweeps away the traditional design cycle and replaces it with recognizably superior attributes. It significantly reduces the time to conceive, create and develop a viable engineering solution and paves the way for a 3D printed product that is right first time. A key aspect is the high-speed calculation of simulation results, some of which can be ready in minutes, and achieve the final design extremely quickly.
That's because the optimization engine takes advantage of the latest computing technologies for fast performance, enabling multi GPU and cloud computing, if desired. This means users can explore the design space in a time-efficient manner, ensuring the design process is not a bottleneck, and it becomes feasible to make decisions based solely on design criteria.
 This blog series will explain briefly "The 7 habits of highly effective Generative Design". Follow us in the coming weeks to learn more about it!
 Next week: Generative Design Habit 4: Design for Costing