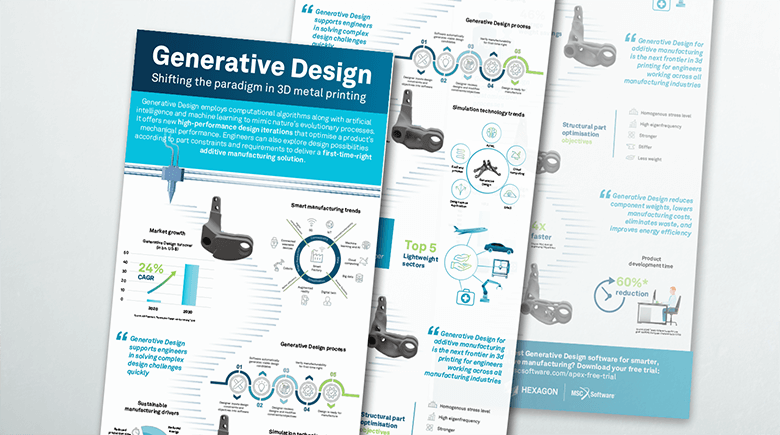 Higher product efficiency and the reduction of energy and material use make the optimisation of components in product development more and more important. In the past, this meant the use of an elaborate, labour-intensive process performed by highly specialised experts using a variety of software tools. Nowadays, generative design promises solutions that are simpler, faster and leaner. The more intensively lightweight construction is pursued, the more complex the organic design structures will become, and these can then only be realised in their full form using additive manufacturing. The combination of both technologies is extremely successful because additive manufacturing can precisely produce such organic structures much more efficiently than traditional designs. With an average annual growth rate of 24%, analysts also expect Generative Design to grow strongly between now and 2030.
The development is supported by various trends in the development and production environment. The growth of Generative Design is driven by a significant increase in computing power, by cloud computing and by digitisation in general. The smart factory of the future must be more competitive, more flexible, more efficient and more sustainable – all elements that Generative Design can positively influence. With an average weight saving of 46 % for components designed for additive technology, the weight and thus the material usage can be significantly reduced; with less energy required for manufacturing and usage of the components, companies can thus operate in a significantly more sustainable manner. At the same time, this makes components more efficient, and machines and motors can be laid out more compactly. Furthermore, the high degree of automation in the Generative Design Workflow also increases efficiency in product development. The user must merely manually construct the model, and is optimally supported in doing so by versatile geometry tools. The further optimisation step, such as mesh generation, are carried out fully automatically and instantaneously. Additional simulations can be connected to optimise production and finally linked to form the megatrend of Smart Factory: the Digital Twin – a completely digital image of a real component. This digital image is also much more flexible, it is easier and quicker to optimise and it allows for low-cost and flexible adaptation to new requirements. This strengthens overall competitiveness. With the creation of novel design concepts, Generative Design can additionally stimulate innovation and thus strengthen the growth of the company.
Artificial intelligence and machine learning can provide significant support and harbour a great deal of potential. A core element of a good generative design software is a seamless and integrated end-to-end process that combines or links all necessary software tools, in a meaningful and compatible manner. Only in this way can different design variants be created and tested virtually without a great deal of manual effort. The engineer can thus be freed from tedious routine work and concentrate more on creative and intensive conceptual design. This end-to-end process, together with a high level of automation and fast algorithms, thus ensure that development time can be reduced by up to 60%, especially with respect to the optimisation of traditional topology. Generative design can not only produce lighter components, but it can also produce a more homogeneous stress distribution in a component and often simultaneously increasing stiffness. Further optimisation objectives can often be defined and, using different design variants, the most promising design can also be selected with respect to so-called soft objective factors, e.g. cleanability. It is therefore not surprising that the technology is of great importance to various lightweight construction markets. These include the additive manufacturing markets already mentioned, the aerospace and automotive industries, robotics, automation and the medical sector which includes, for example, implants, etc.
The complex design challenges in these industries can be solved in a highly automated, fast and simple way using powerful algorithms. This results in optimal, high-performance components that promote innovation using novel design concepts. Efficient and sustainable – the resulting lightweight geometries are excellently designed for application in additive manufacturing. An excellent combination of two powerful technologies!