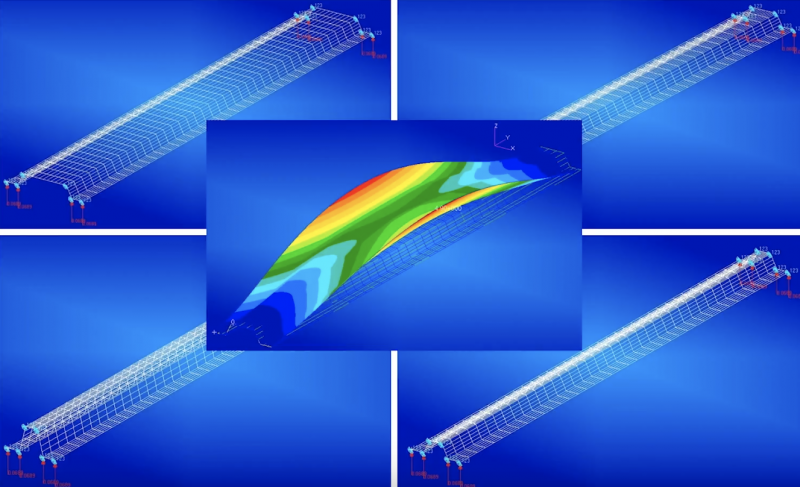 In recent years, the Aerospace Industry has increased their reliance on carbon-fiber composite materials to optimize the aerospace parts for optimized parameters, specifically for stiffeners. In fact, more than 50% of modern aerospace vehicle weight is composed of composites. The implementation of composite materials into aerospace vehicles will increase fatigue resistance and reduce maintenance. These stiffeners are critical for the design of wings and fuselages. The sizing of hat-stiffened composite panels presents challenges because of the broad design hyperspace of geometric and material parameters available to designers. Fortunately, design tasks can be simplified by performing parameter sensitivity analysis a priori and by making design data available in terms of a few select parameters.
The team at USC Viterbi School of Engineering set out to predict the mechanical behavior of single and multiple hat stiffened composite panels, as well as validate FEA predictions and provide feedback for further analysis and design. Through multiple MSC Nastran & Patran simulations, the team aimed to create a database of optimized designs and implement their methods for the aerospace industry.
https://www.youtube.com/watch?v=XKZRuQfeA9o
Reasons why MSC Nastran and Patran were chosen:
Connectivity with other CAD Software
Automatic Parametric Modeling Feature
Ability to Reduce Reliance on Physical Testing
From the parametric study of hat stiffeners, the team at USC concluded that the height of the hat stiffener is the most influential parameter. The detailed FEA results accurately revealed the design sensitivities of relevant geometric parameters of hat-stiffened composite panels. The findings constitute a first step towards a structural and scripted FEA framework to speed the development and qualification of composite aircraft structures. The framework saved the university millions of dollars, as well as increase the possibility of content reuse, and improve time-to-market.