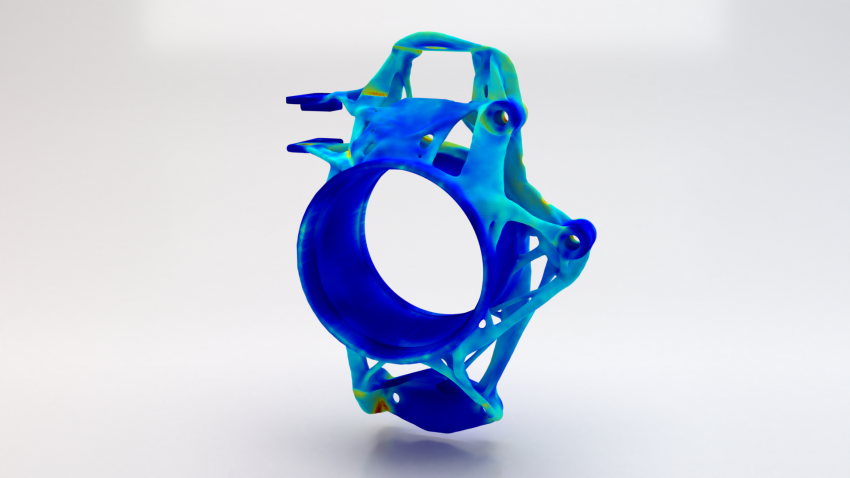 Generative Design is revolutionizing the way companies design and optimize products. Our ambition is to make the optimization process as easy and comfortable as possible. So, a key focus of the software's development is the easiness of use. While MSC Apex Generative Design has already leveraged powerful geometry tools right from its start, we continuously extend this excellent, user-focused basis through upgrades with valuable tools and workflow enhancements.
A smooth CAD to CAD workflow characterizes MSC Apex Generative Design. It enables the users to import and manipulate any existing CAD data easily for the optimization with the integrated, powerful geometry tools. The previous release already introduced a manual workflow for part consolidation to the user, which is now further enhanced by the guided assembly workflow. This tool supports the user in setting up optimization for assemblies with all relevant parts and areas of the assembly: no effortful manual work, but a workflow designed for this with guidance and user-focused tools. As a new feature of this workflow we have introduced retained volumes. This is a special option for including other parts of the assembly in the optimization while not being optimized themselves. But they can be defined with loads, boundary conditions and materials. The optimization takes these characteristics into account, but the retained volume's geometry remains untouched.
The optimization achievement index is a new experimental functionality we introduce in this release. It helps to monitor the optimization process more precisely by visualizing regions of material increase and decrease. The user can evaluate the optimization result better and determine early and easily, which design candidate is promising or not. It helps the engineer to drive the optimization in the right direction and gives more control.
A modified meshing algorithm in the accompanying software MSC Apex Structures now guarantees a smoother overall workflow with this downstream tool. MSC Apex Structures' meshing capabilities have been improved to be directly aligned to MSC Apex Generative Design's organic structures. A new logic has been implemented that increases the effectiveness and robustness of the meshing process. Alongside several usability enhancements, such as better NURBS retransition performance, the optimization in a single workflow becomes a reality with MSC Software.