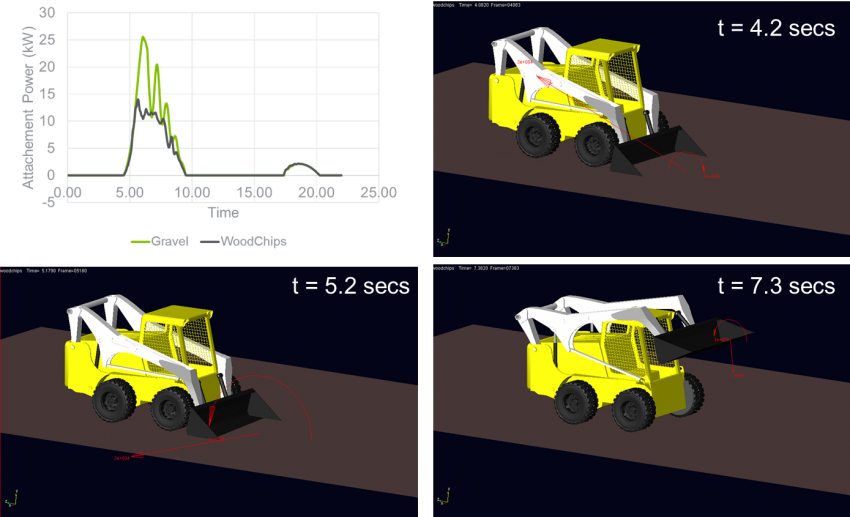 Darren Simoni, Principal, DSIM Technologies.
David Curry, Principal Engineer, EDEM.
In this final blog of our Adams-EDEM co-simulation series, Darren Simoni from DSIM Technologies explains how EDEM and Adams have been used during the design of a skid-steer loader to increase the accuracy of system level simulation using less time and effort than traditional load estimation methods.
Achieving reliable and consistent systems dynamics results for equipment design is highly dependent on the quality of the external loads applied to the system through buckets, tires, or tracks. A recent project to design a new high-efficiency skid-steer loader required details of the power required to operate the bucket attachment in varying material types to provide guidance on the sizing of hydraulic components. Accurately representing the loads acting on the skid-steer was paramount to address these needs and, since the skid-steer loader was at a concept stage of the product development, no physical prototypes were available and many design parameters were open for influence.
DSIM Technologies has adopted the Adams-EDEM simulation solution to gain increased design insight and provide customers with more accurate results in less time than when using traditional load-estimation approaches. An Adams model of the skid-steer loader with driving motions based on a typical operational scenario was quickly coupled with EDEM. By using EDEM's GEMM Database, the skid-steer loading and unloading cycle was able to be tested in multiple piles of materials without any guesswork on the properties to use.
Following simulation, the increased information available to engineers allowed several what-if questions to be tackled in the analysis. Here, the much-needed power requirements to move different materials were determined for a set of driving motions. The image below shows the power requirements for two materials at the far ends of the spectrum: Gravel, high density with medium cohesive properties; and Wood Chips, low density and minimal cohesion. The material force vectors generated by the EDEM model and applied to the Adams model are also shown in red in the included images.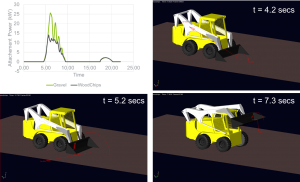 Using a fully physics-based approach with the Adams-EDEM coupling eliminates the long list of issues of historical methods to generate material loads. The forces on the skid-steer are complex and would be very difficult and time-consuming to predict with any accuracy. Through use of the coupling no pre-programed empirical equations or functions are required and the resulting forces are automatically determined based on the naturally transpiring physics from the co-simulation! This significant advancement in systems dynamics simulation means engineers spend more time focusing on design exploration and, as a result, are delivering optimizations in a way that was previously unobtainable.