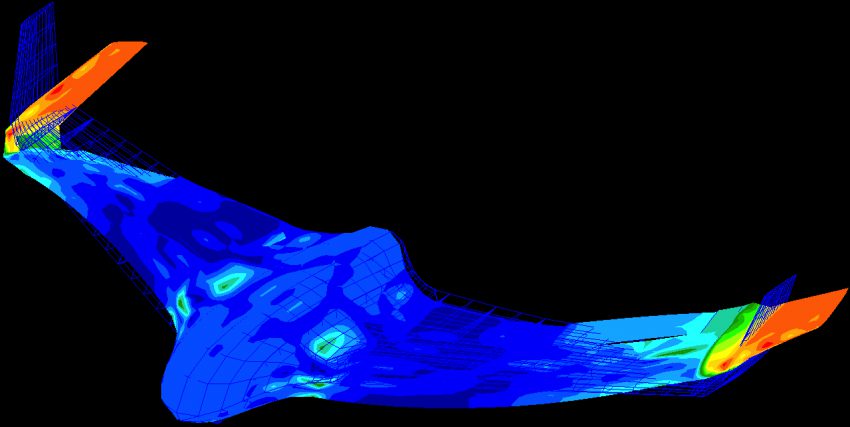 MSC is proud to support the students of the Department of Mechanical and Aerospace Engineering at Carleton University in the design and optimization of The Peregrine, an Unmanned Aerial Vehicle (UAV). The team, led by Professor Mostafa El Sayed, is aiming to design, optimize, build, test, and fly an Additively Manufactured Unmanned Aerial System (UAS) with a Blended Wing Body (BWB) configuration. The design will break new boundaries within the aerospace industry as the first blended wing body UAS created with this type of manufacturing technology.
The students used Nastran and Patran in the testing and development of the vehicle performance. The vehicle was designed and optimized utilizing a multiscale hierarchical approach, employing functionally graded micro‐structured lattice materials manufactured by the state-of-the-art additive manufacturing technology.
Additional areas of analysis include:
Aerodynamic Analysis- High Fidelity 3D CFD analysis is conducted to determine aerodynamic characteristics of the UAV including conceptual aerodynamic loads, stability margins and performance metrics
Dynamic Analysis- Modal and flutter analyses are performed to validate, respectively, the structural integrity and flutter free design
Lattice Optimization- Multiscale design optimization is performed at two length scales, first on a macroscale in the form of topology optimization and then  on a mesoscale in the form of lattice size optimization
Stress Analysis- Linear static analysis supported by experimental material testing data is conducted to size different parts of the airframe
Loads Analysis- Incremental dynamic and static maneuver loads analyses are performed to determine critical design loads used for sizing and optimization of the airframe

The blended wing body designates an alternative configuration where the wing and the fuselage are integrated resulting in a hybrid flying wing. Compared to traditional aircraft, BWB configuration is an eco‐efficient design that offers increased efficiency and payload capacity as well as decreased acoustic and environmental footprint. The research conducted and data gained during the project will impact the aerospace industry for years to come.