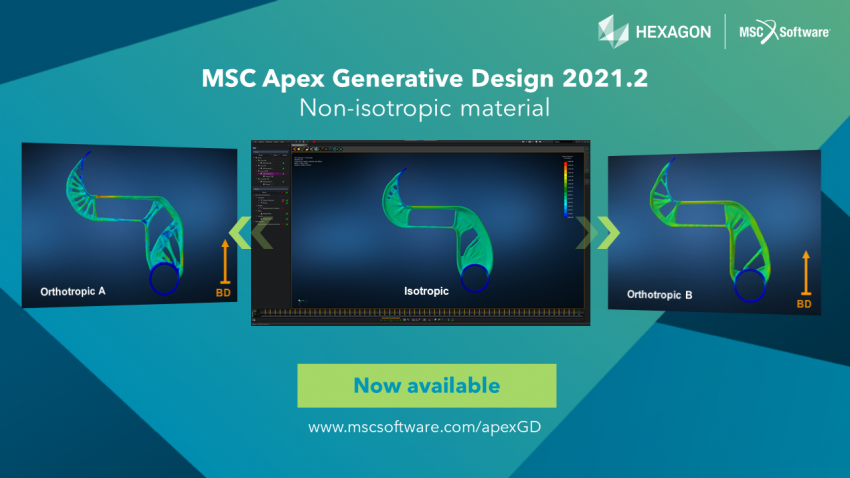 MSC Apex Generative Design 2021.2 is now available, advancing the optimisation of products with complex material characteristics. With MSC Apex Generative Design the user can rapidly generate several optimal design candidates to create lightweight yet robust products. Through a high degree of automation, the software reduces time-to-market and offers a solution for shrinking development resources. It eliminates the iterative process of designing lightweight products manually, freeing up the engineer's time so they can use their expertise to explore the design space and find more optimal and novel, manufacturing-ready designs.
The recent release now opens up an entire new field of application: with new complex material settings, reinforced thermoplastics can be accurately simulated, taking into account the directional dependency of those non-isotropic materials for Fused Filament Fabrication (FFF) 3D-printing. This is completed by the integration of new failure criteria. A simplified method can be applied for FFF 3D-printing technology, to adjust the optimisation for the lower stress value in build direction for the otherwise isotropic material.
In addition, more profound simulations for high-end applications are now possible, building upon the Tsai Hill and Tsai Wu approach, extending the existing Von Mises stress failure criterion. Thus, 3D transversely isotropic and 3D orthotropic material now can be considered in the simulation in combination with a newly introduced safety factor which serves as the optimisation goal for the new failure criteria.
To simplify the selection and use of the new options, the user can now choose a manufacturing method. This limits the choices to the relevant ones, making it easy for the user to work with the new integrations. Because boosting productivity is a key driver of MSC Apex Generative Design, a new feature to duplicate loads is introduced. The designer can easily copy an already existing load and adapt it, significantly speeding up model preparation.
There have also been considerable enhancements to the Facet-to-NURBS feature. Major improvements of the algorithm have been implemented to reduce the required time for transferring the mesh to a NURBS-based geometry, increasing the patches' size while requiring less process memory for this process. As a result, patches are generated in less time.
Despite this power, MSC Apex Generative Design can run on a normal laptop to generate initial candidates within minutes and produce a final design within a matter of hours. Adding to its accessibility, the tool is also now equipped with an intuitive interface, opening up its capabilities to designers and engineers without specialised knowledge of computer-aided engineering (CAE). Design goals can be set up directly or set against an existing design from computer-aided design (CAD) or directly from CAE models. The resulting parts are automatically designed for performance, balancing the material use with strength requirements and stress distribution.
Users can link MSC Apex Generative Design with industry-leading manufacturing simulation tools Simufact Additive for metals and Digimat AM for polymers to reduce build failures and make optimal use of materials at every step.
It also exploits many productivity benefits of the underlying MSC Apex platform, for example direct export of engineered models (mesh) to CAD formats so that generative design optimisation can be used within common CAD/CAM manufacturing workflows.