The metal additive manufacturing has the potential to revolutionize manufacturing in multiple industries by making it possible to create parts otherwise impossible with traditional manufacturing techniques. This technological advance however is not without a multitude of challenges. One challenge frequently encountered in powder bed fusion (PBF) type additive manufacturing is the distortion and residual stresses imparted by the build process. Additive manufacturing simulation software such as, Simufact Additive, enables users to predict distortion and residual stress not just during the build, but also after subsequent heat treatment, baseplate cutting, and support removal processes. Considering the complete AM process to include post-build processes is absolutely necessary because all stages can have a significant impact on the resulting part deformation and residual stress state.
Distortion and Residual Stress at Each Stage of the Metal AM Process Chain
When metal powder heats up and is locally melted by a beam heat source during the build process, it undergoes thermal expansion. When the metal solidifies and cools, the resulting shrinkage imparts residual stresses on the structure. This process repeats over and over again, layer by layer until the build is complete or fails to complete. During and at the end of the build, there is a residual stress state within the part that is highly complex, non-linear, and incredibly difficult to predict. Evaluating the build stage correctly is vitally important, but it is not the end of required AM process simulation.
The baseplate is removed from the machine with one or more highly stressed parts still attached. Parts attached to the plate are not usable and require further processing before completion. Post processing steps can be completed in nearly any order but here we assume a generic approach where parts are first cut from the baseplate, then support structures are removed, and finally the part is heat treated to reduce residual stresses. Each of these processes has an effect on the stress state and resulting geometry of the structure. A case study courtesy of Green Team Formula SAE team in Munich, Germany and Renishaw is provided to illustrate. The part is a TiAl6V4 bearing carrier/hub built on a tool steel baseplate.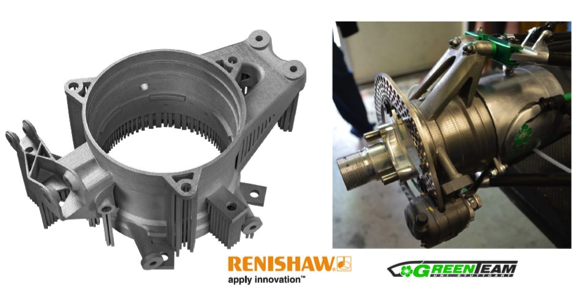 TiAl6V4 Bearing Carrier/hub – Green Team Formula SAE Team
After the build is complete, parts can be cut from the baseplate. As the cutting tool advances, there is relaxation of internal stresses as parts become less constrained and are allowed to deform. The magnitude and direction of resulting distortion depends even on the direction the cut is made. Support structures are removed next. Similar to baseplate removal, this step results in a relaxation of residual stresses and an associated deformation. The order in which individual support structures are removed can have an effect on the resulting distortion.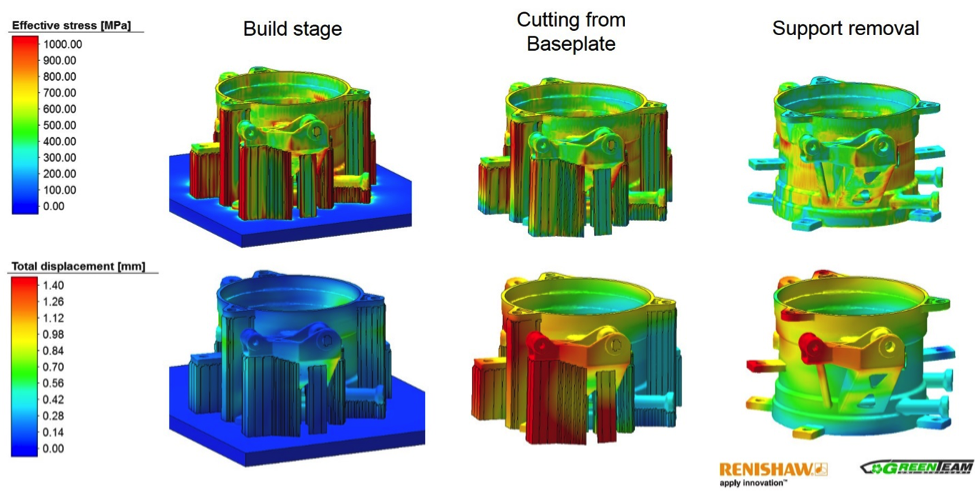 Residual Stress and Distortion through AM Process Stages
Finally, parts are place in a furnace and heated to elevated temperatures for a period of time in an effort to relax the internal residual stresses. During this process however, elevated temperatures decrease the yield stress to the point where parts distort due to the creep effect resulting from residual stresses not yet relieved.
Residual Stress Prediction Before and After Heat Treatment
With all this variability inherent in metal AM build and post processing steps, how are engineers expected to consistently achieve their desired build geometry and avoid the effects of excessive residual stresses? Until recently, tribal knowledge and costly physical try-outs were the only tools available. Considering that a single metal additive manufacturing build can cost tens of thousands of dollars, even one failed build is hard to accept as a necessary part of the process.
Simufact Additive utilizes the MSC Marc advanced multi-physics solver to accurately predict distortion and residual stresses during the build process. Calculations for most models can be finished in a few minutes to a few hours. Reasonable solve times are still possible for large parts with fine details by scaling computing to hundreds of CPU cores on multiple computing nodes. The Marc solver is also what enables the software to consider the effects on subsequent post-processing in order to predict distortion and residual stress states after the part is complete and ready for use. A built-in compensation capability enables the user to create offset geometry based on distortion predicted at the end of the complete AM process chain simulation. Those compensated geometries were validated by rerunning the simulation and successively sent to the AM machine for build of a part that meets design requirements. The ability to consider the complete metal AM process chain is a necessary step within the metal AM workflow and a must for Additive Manufacturing Engineers who want to build their parts right the first time.