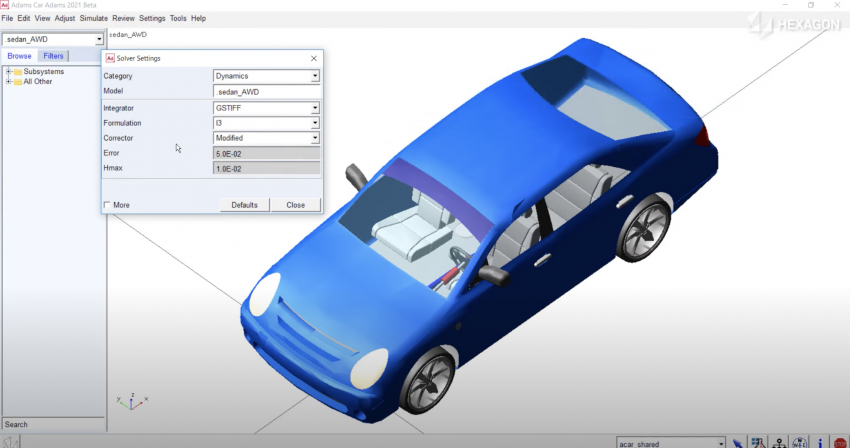 A new workflow improvement in Adams 2021 is the ability to associate specific solver settings with an Adams Car event. This feature comes in handy when one wants to remember the optimal solver settings for a given event, especially when one wants to run an Event Set consisting of multiple event types/conditions requiring a diversity of solver settings. For example, an event set that combines handling and a durability event might need two separate solver settings for the individual events.
Full vehicle, suspension, and generic actuation events support the selection or creation of an Adams Solver Settings File (.ssf). Any settings in the specified .ssf will get applied to the event when it's run and overrides the current Adams Car session's solver settings.   Any applied .ssf will be listed in the Adams Solver message file (.msg) and the Adams Solver dataset (.adm).

Also, the event specific solver settings are only applied during the event's execution; the settings revert to the default settings after event execution. A new database table, solver_settings.tbl has been added to store solver settings files within a .cdb.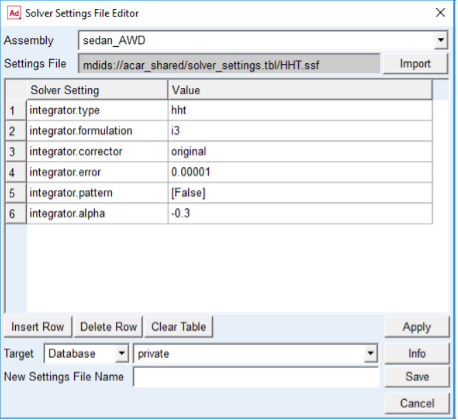 Additionally, a new dialog is introduced to the Adams Car user interface that allows the creation, import, modification, and export of solver settings files and can also be used to apply those configurations to the active assembly.