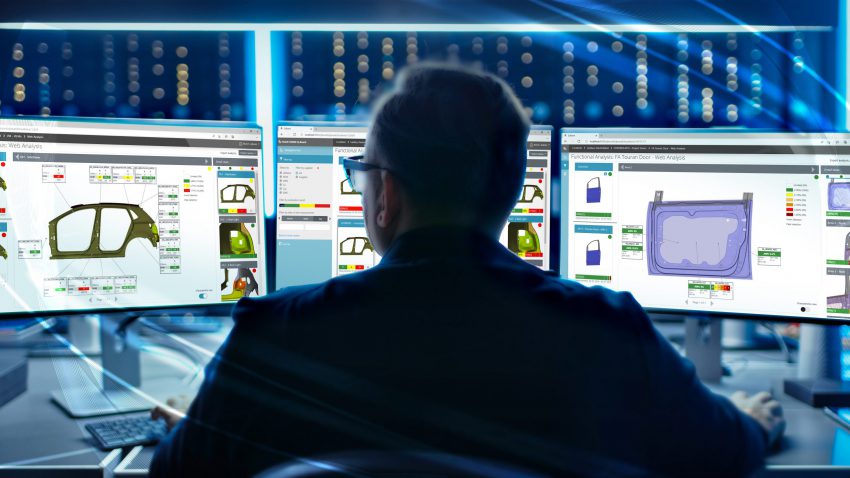 While getting more mileage from production data is what smarter manufacturing is all about, collecting and analysing large volumes of information can be an uphill battle. Invaluable feedback about part quality can be used to quickly identify and correct problems so that products come together seamlessly during assembly, but only if there's a system in place that can efficiently manage and analyse inspection data.
With Q-DAS eMMA master data-management software, quality professionals have the tools needed to link traditionally disconnected quality processes by comparing inspection feedback across multiple production sites. This connection makes it faster and easier for global manufacturers to achieve accurate and detailed analyses of quality issues linked to specific components, suppliers, projects, and locations.
To provide flexible access to software that helps manufacturers manage inspection data, Q-DAS eMMA is now available through the MSCOne, a token-based access system that enables businesses to access Hexagon's Design & Engineering software portfolio as-needed. Customers that use MSCOne can respond more efficiently to changes in priorities, such as shifts in workloads or unexpected staffing changes, by flexibly reallocating resources across teams and worksites. Participants are free to use any or several solutions simultaneously by drawing from a pool of tokens to access the software.
You might ask where eMMA helps Computer Aided Engineering (CAE) customers. The answer is that development and manufacturing are converging in efforts to shorten time to market and avoid quality issues in production and assembly – Q-DAS eMMA connects to Hexagon's Simufact and FTi manufacturing-simulation suites, making it possible to integrate dimensional predictions into production and quality processes on the shop floor. These predicted dimensions can then be compared to actual measurements from any connected sources, including Hexagon products such as NEXTSENSE measurement equipment and systems, and PC-DMIS, Apodius, and Optocat metrology software.
Q-DAS eMMA is ideally suited to any industry or application in which the dimensional control of 3D geometric components is vitally important at different stages of the product-development and production processes, such as automotive body-in-white, ship construction, and general assembly applications.
Q-DAS eMMA is available globally to all MSC Software customers using MSCOne immediately.